HIMACHAL PRADESH
Blessed with some of the most spectacular and beautiful landscapes anywhere, it is a travellers paradise -lofty snow peaks, deep gorges, lush green valleys, fast flowing rivers, enchanting mountain lakes, flower bedecked meadows, beautiful temples and monasteries steeped in time. May it be for relaxing, sightseeing, trekking, mountaineering, fishing, para-gliding, skiing, ice skating and golf, Himachal has it all...Come Explore Himachal with himachaltourist.
A quaint little hill train chugs up into the Shivalik foothills, over dramatic loops and high arched bridges to the hill resort of Shimla (2130 m) - the capital of the mountain state of Himachal.
TOURIST DESTINATIONS OF HIMACHAL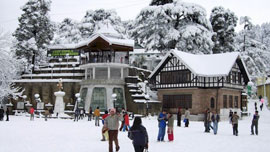 Shimla
Shimla abounds in natural bounty and looks picture perfect. The small hill station amidst the lofty snow-clad Himalayan ranges, surrounded by lakes and lush green pastures look as though an artist has painted them. The unique thing about Shimla is that it still retains its colonial charm and this creates an ambience that is not found anywhere else in India. Shimla is one tourist destination that can be visited any time during the year. Summers are warm with cool and pleasant evenings while winters are bone chilling and the temperatures can fall below zero. But this difference is what makes Shimla all the more special!
So pack your bags, catch the next flight and come to Shimla - A place where dreams come true!
Dalhousie
Built around five hills, Dalhousie is located on the western edge of the Dhauladhar mountain range of the Himalayas. Offering spectacular views, this hill station really takes one away from the noise of the metros and towns. This summer retreat offers gateway to Chamba hills, where tourists can also enjoy visiting Kalatop-Khajjiar Trail, Punjpula, Palace, and Chamera Dam trail. Few kms. away from Dalhousie is a scenic picnic spot- Khajjiar, which adds more to the fun-filled itinerary. The stay is also very pleasant as the hotels in Dalhousie meet all the standards of comfort and luxury.
Staying amidst beautiful surroundings is once in a lifetime experience. Therefore all the hotels in Dalhousie are so strategically located that they offer tourist some stunning views of the majestic mountains. As the city is built around five hills, each hotel in Dalhousie offer great soothing comfort with delight to the eyes surroundings. Dalhousie hotels can also be divided as luxurious as well as budget hotels, catering to every pocket and need.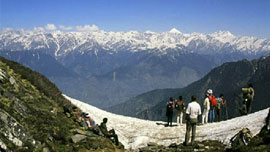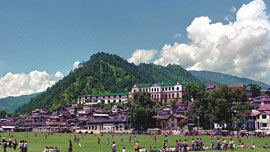 Chamba
This hill town of Chamba was founded by Raja Sahil Varman in 920 AD. By the side of Ravi river this town is located at a height of 1000 meter. This old town has many temples and the town is sounded by high hills. On arrival from Khajjiar this town is clearly visible from a height.
Distance of Pathankot to Chamba is 118 KM via Banikhet
Distance of Shimla to Chamba is 378 KM
Distance of Dharamsala to Chamba is 169 KM via Lahru
Distance of Dalhousie to Chamba is 41 KM
Dharamsala
Dharamsala is the main hill station in the Kangra Valley - a fertile, undulating valley, lying between the gentle Shivalik Hills and the foothills of the mighty Dhauladhars - a valley noted for the beauty of its scenery - lush terraces, wooded hills, manicured tea gardens and sparkling streams. The Dhauladhars, "the white mountains" that rise 4,000 m above the valley floor, provide a dramatic backdrop.
Picturesque Dharamsala, built on a spur of the Dhauladhar range, commands splendid view of the surrounding country. Originally a little hill resort built by the British, Dharamsala rambles up in levels to very near the snow line. While Lower Dharamsala (1,250 m) is the busy commercial area with government buildings, the bazar and the bus stand, Upper Dharamsala (1,982 m) has suburbs with evocative names like Forsythganj and Macleodganj that are quite fascinating.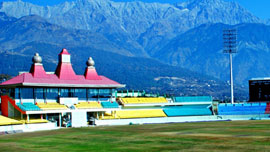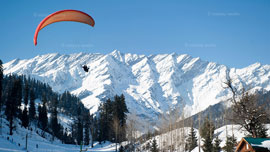 Manali
Manali located at an altitude of 1829 M is one of the popular hill station of Himalayan range. You can reach Manali by road or by air where nearest airport is at a distance of 52 KM Bhuntar. Manali is 570 KM from Delhi and you can reach Manali through National Highway number 21. By road it will take 14 hours from Delhi and it is 10 hours journey from Shimla side. Shimla to Manali distance is 260 KM.
Many tourists arrive at Manali by bus from Delhi. There are different types of busses and most of them start from Behind the Chanderlok Building, Janpath, New Delhi.Manali is located at northern end of Kullu valley. with the help of Lord Ganesha Rishi Ved Vyas wrote the epic Mahabharata at the source of the Beas.
Kullu
Feeling low and drained out? Come to Kullu, a destination that will enthrall you with its spectacular beauty. Every sight of Kullu tour is truly a delight to the eyes. Kullu is a very popular tourist destination, which attracts not only group of families, friends and corporates but also Bollywood, as here many hit movies have beens shot. Such is the beauty of Kullu 'the nature's treasure', that it magnetise visitors to choose it every year as their favorite holiday destination.
Kullu hotels have the advantage of being located in the 'Valley of Gods'. All the hotels in Kullu are packed round the season. Summers witness the rush of visitors from plain areas but the snowfall in winters attracts honeymooners and adventure lovers. Kullu hotels also surprise the visitors by the room view they provide. During your stay in Kullu hotels, wide open the curtains to stay amidst the thick valleys and watch the stunning view of the clouds entering your room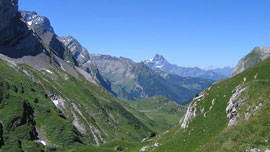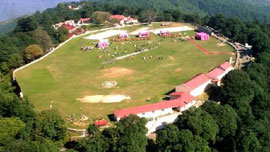 Chail
Chail has lobely walks and trails that meander through the dense pine forests - the home of barking deer, wild boar, pheasant and a variety of birds. Forest rest houses make overnight halts possible. For those interested in sports, Chail has fine tennis and squash courts and a putting green. There are excellent spots along the River Gaura with opportunities for anglers to tangle with the Himalayan mahaseer. Chail has also the highest cricket ground in the world - 2,250 m above sea level.
Chail is a beautiful hill station and a popular resort. The deodar and oak forests and grasslands around the town are part of the sanctuary. One can see sambhar, ghoral and cheer phesants at Blossom and Jhaja - where there are pheasant breeding centres. Barking deer and khalij pheasant are often spotted at dusk and dawn in the sanctuary. Treks from Chail to Gaura and Chail to Jhaja are popular.