Bengaluru
Few Cities in the World have the power to attract and motivate a casual visitor to move there permanently. Bangalore is one of those rare cities which makes people who are new to the City to call themselves proud Bangaloreans Bangalore, a real cool place on Planet Earth is the capital of Karnataka, a major state in the southern part of India. It is deccanindeed cool - the people, the place and of course the weather. This website is dedicated to Bangalore and its cool people.
TOURIST DESTINATIONS OF BENGALURU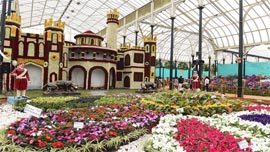 Lalbagh Gardens
Regarded as one of the most richly diverse Botanical Garden's in South Asia. Lalbagh in the Southern part of the city, was laid out by Haider Ali in 1740. Spread over 97-ha (240 acres) of Parkland, many of its tropical plants were brought here by Haider Ali's son Tipu Sultan. Later, John Cameron, the Garden's Superintendent in the 1870s, imported several more rare species from Kew Gardens in London. Cameron was also responsible for initiating work on Lalbagh's famous Glass House, modelled on London's Crystal Palace and Conceived as a venue for horticultural shows. Surrounded by champaka trees and pencil cedars, the Glass House has played host to several visiting dignitaries.
Cubbon Park
The park is located at a decent distance of 5km from the railway station. This 300acres of sheer beauty was an outcome of a British Chief Engineer of Mysore, Sir Richard Shanky in 1864. The park has been named after Cir Mark Cubbon who was Bangalore's longest serving commissioner. Beautiful roads, blooming trees and placid plains are spread all around. Cubbon Park is a lush, grassy expanse with flowerbeds adding to the subtle beauty of the park. The park also has several elegant Graeco-colonial style building showing British influence. There are a number of monuments within the park including a memorial hall located at the center of the park that is dedicated to Aeshadri Aiyar, a Jawahar Bal Bhavan, Children's Park and a Museum.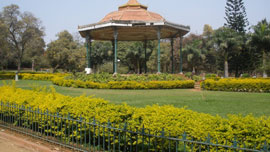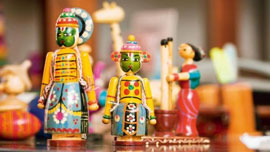 Channapatna - 60km from Bangalore
Channapatna is located 60 km southwest of Bangalore on the road heading to Mysore. It is one of the major silk centers in Karnataka and the town is also renowned for colorful wooden toys. Channapatna is an ideal place for shopping lacquerware.
Devarayanadurga
Around 70 kms from Bangalore, is Devarayanadurga - a famous pilgrim center sitting atop a magnificient hill. There are two temples situated 2 Kms away from each other. If you so wish, you can climb up (the trail is quite like a short trek) or if you're feeling lazy, there's the option of driving right up to the top. The view from above is scenic & serene. After you're done with the pilgrimage, you can walk across the beautiful deer park below that is populated with these docile creatures with majestic antlers. Be careful of the monkeys though. For the adventurous ones amongst you, there is provision for rock climbing & hiking too. All in all, it's a nice getaway from mundane metro life, especially if you're the outdoor / nature loving kind.The only thing you need to remember is that food is not available easily - the closest restaurant is in Tumkur - about 8 kms away.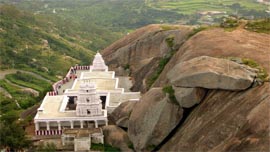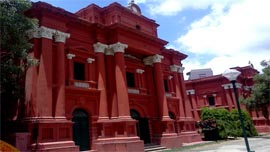 Venkatappa Art Gallery
There are many art galleries in Bangalore. But every art lover should definitely visit Venkatappa art gallery for maximum satisfaction. The gallery has about 600 paintings, which are on display throughout the year. On the ground floor, the paintings of K.Venkatappa, born in 1887 to a family of court painters, are on display. His works include a panoramic view of the Ooty Lake, view from Church Hill - Ooty, Nilgiri Mountains, Kodaikanal, Sunrise in Ooty, a painting on Monsoon and various other sketches.
Bull Temple
The Bull Temple is located at Basavangudi, atop 'Bugle hill' in Bangalore. Kempe Gowda, who is known as founder of Bangalore, constructed this temple in a typical Dravadian style. The temple has a mammoth monolithic bull called 'Nandi' which is 4.5m high and 6.5m long. It is believed that the statue keeps on growing in size further and further. According to a legend, the temple was built in order to appease a vagrant bull that persisted on eating away the entire groundnut grown in the surrounding fields. Ever since the enunciation of Bull temple, the bull never did the same again.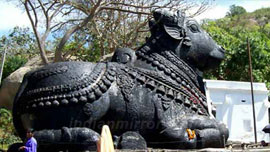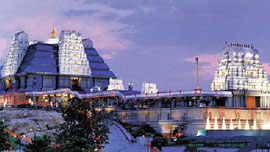 ISKCON Temple
Situated on Chord road, as part of International Society for Krishna Consciousness (ISKCON) is built on a hillock with scenic surroundings. As part of Hare Krishna movement in India, its followers believe that Hindu Lord Krishna is the creator of this world and is central theme of their movement. This temple was established in Bangalore in 1996. The temple spans across the length of 4-5 football grounds and is quite the sight to see. Massive pillars, very flamboyant idol for worship, laser shows and living quarters, class rooms, yoga centers, dance studios, gift shops and restaurants signify this place of worship.
Kolar Gold Fields - 98 kms from Bangalore
Kolar Gold Fields are believed to be the second deepest gold mines in the world. Situated at a distance of approximately 120 km from Bangalore, these mines were closed down in the year 2003 because of reducing deposits and hiking costs. However, once Kolar Gold Fields were counted amongst the major gold mines in India. There is a very interesting legend associated with the Kolar Gold Fields, near Bangalore. It is said that Lord Rama, while on the vanavasa with his wife Sita and brother Lakshmana, set up His hut in the present day Avani village, about 10 miles from the gold fields. One day Ravana's sister, Surpnakha, first asked Lord Rama and then Lakshmana to marry her. In order to ward her off, Lakshmana cut off her nose.